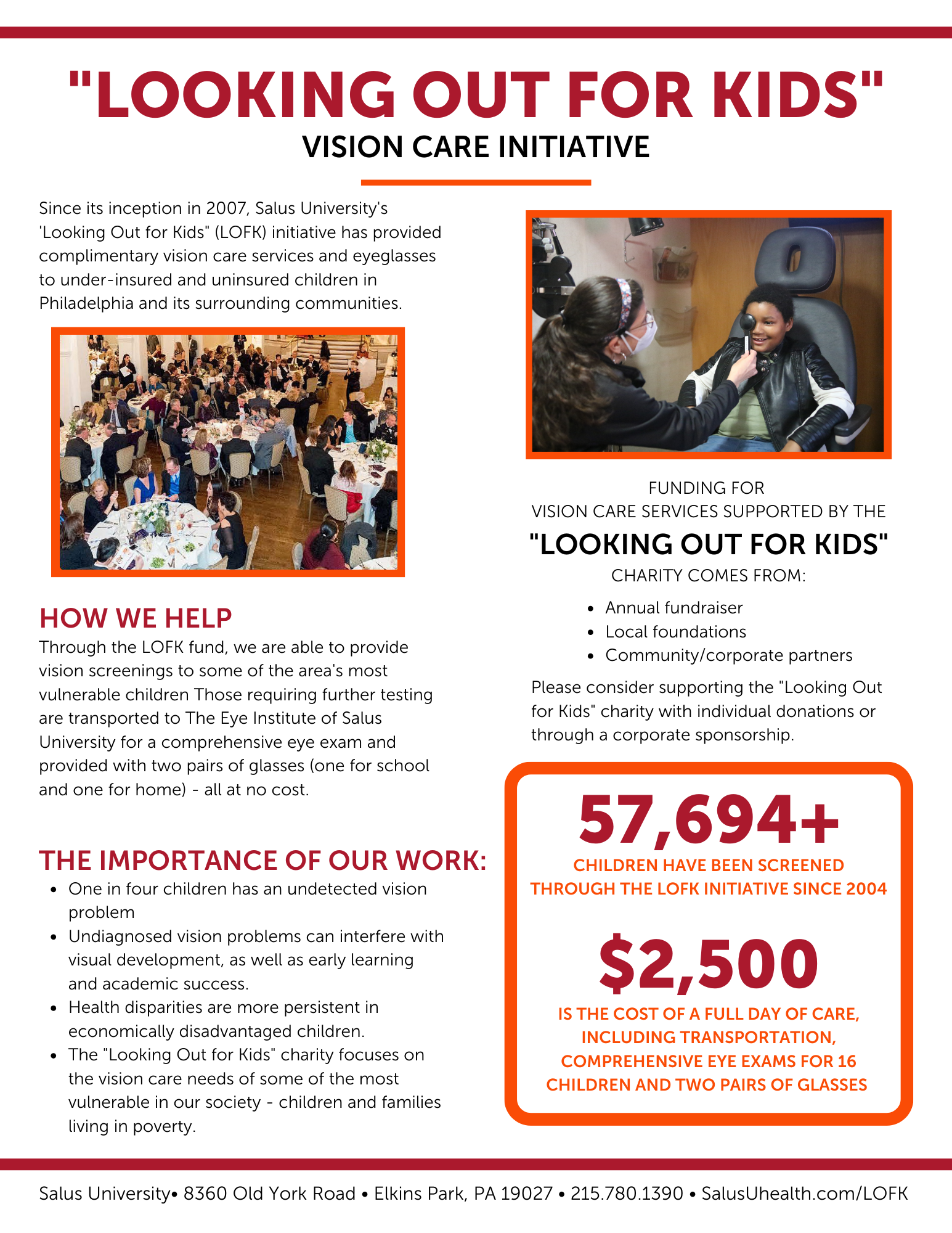 Since establishing the "Looking Out for Kids" charity, The Eye Institute (TEI) of Salus University has provided vision care services and eyeglasses to thousands of children from the School District of Philadelphia, and in more recent years, our reach has expanded to include the Norristown, Abington, Cheltenham, Jenkintown, Chester, Souderton, Bristol, Upper Darby, Philadelphia Parochial Schools as well as hearing services.
For many years, we have had a strategic alliance with the School District of Philadelphia to provide vision care services to their students. Working closely with school nurses, TEI deploys vision care teams to schools to provide free vision screenings. For children who fail the vision screening, we work with schools nurses to schedule students at one of TEI's locations for comprehensive vision care and eyeglasses. Each year, several hundred children are transported to TEI for the care they need.
Working collaboratively with The School District of Philadelphia nurses, we provided the following services to children in Philadelphia public schools during the 2022-2023 academic year:
Vision screenings to 5,758 children
Comprehensive vision and ocular health examinations to 434 children by transporting the children to TEI's pediatric service
Distributed 776 pairs of eyeglasses to public school children
We also provided eye care to the Philadelphia Parochial Schools with 1,527 screened, 56 examined and 98 glasses distributed.



TEI once again collaborated with the Norristown Area School District (NASD) to provide eye care through a school-based vision clinic. TEI's vision care team provided 187 comprehensive eye exams and 344 pairs of glasses on-site for NASD students.
Our vision care team also provided eye care to children in Cheltenham, Jenkintown, Abington, and Souderton school districts with the University's Mobile Vision Care Unit. The "Big Red Bus," as it is affectionately nicknamed, includes all the essential equipment needed to complete a comprehensive vision exam. Using the mobile unit, 295 eye exams were performed and 514 pairs of glasses were dispensed to children in these districts.
The Mobile Vision Care unit also made its way to Delaware County this year, where TEI's team conducted eye exams for children in the Chester-Upland and Upper Darby School Districts, which resulted in 175 eye exams and 288 glasses dispensed.
Additionally, our team visited the Central Bucks School District, resulting in 8 eye exams and 16 pairs of glasses were dispensed.
Last year, the annual "Looking Out for Kids" benefit raised over $135,000 making it possible to continue offering this important program within our community. Through our work and the generosity of our community partners, we can continue to help change the lives of children and provide them with the vision care that is necessary to ensure academic success.